Meet the Team at Physio + Fitness Clinic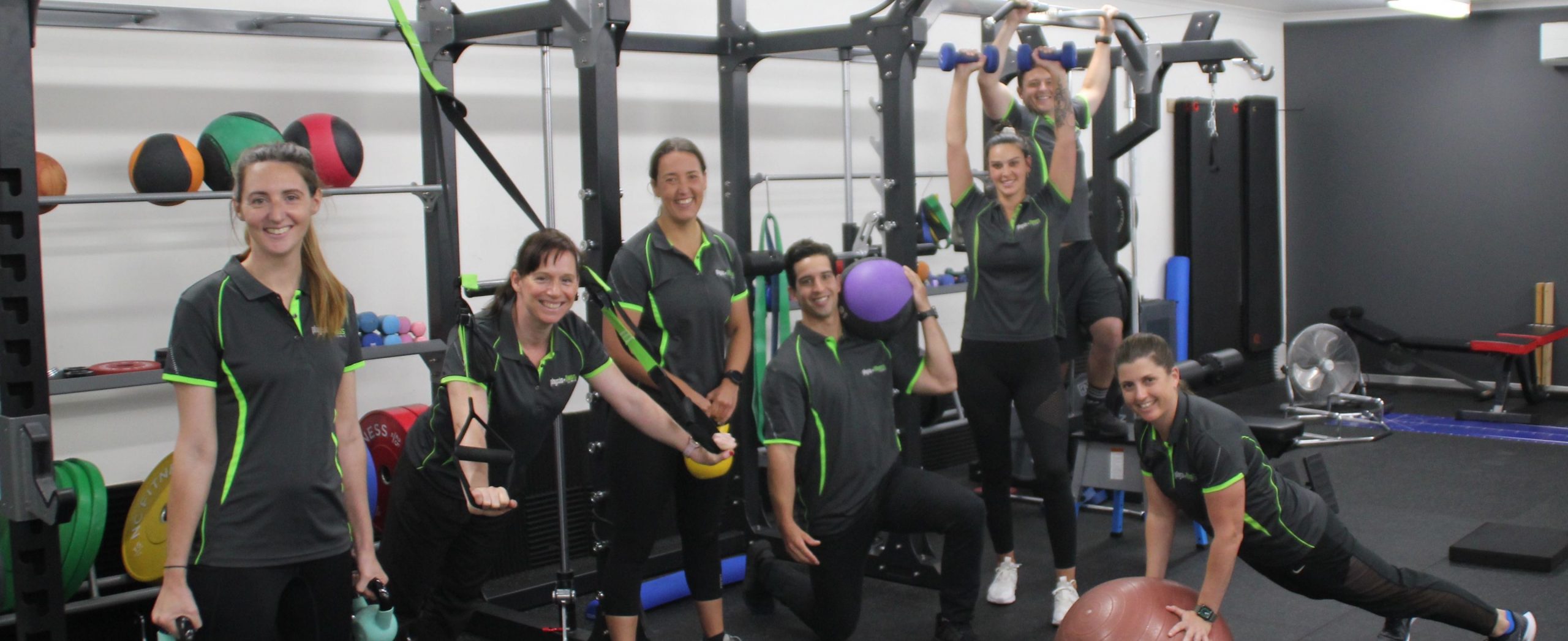 Meet the Team at Physio + Fitness Clinic
MORGAN DEEGAN
B Sc (Physiotherapy) – Curtin University
Post Grad Certificate in Sports Physiotherapy – LaTrobe University
Morgan Deegan is a passionate Physiotherapist and Director of Physio and Fitness Clinic. She focuses on treating each client with an individual, goal oriented approach. She is an expert at looking at the body holistically and ensuring that each step of the process to recover is managed and thoroughly understood by the client.
In particular, Morgan has extensive experience in gait analysis (both in the running population and general public wanting to be able to walk and stand for longer periods) and thoracic spine management – including those with postural related neck and shoulder issues. She has a history of assisting clients in the pre and post op surgical state to get the best results possible.
Morgan has a social media presence as The Physio Runner (insta and facie), where she shares ideas and tips on management for the injured and non-injured runner.
Morgan has over 10 sessions per week of Group Physiotherapy (Clinical Pilates), which she uses to assist her clients to achieve lasting improvements in their physical function. She has recently completed further training in BPPV (vertigo) management to assist those clients with their long term management of BPPV.
Post grad courses completed:
La Trobe Sports Graduate Certificate
LJ Lee Sports Thorax
LJ Lee Connect Therapy
The Modern Triathlete
Running Repairs Course
Running Analysis
Level one and two Sports
Level One Spinal
The Sporting Hip and Groin
Upper and Lower Limb Tendinopathy course
The everyday foot and ankle course
The everyday shoulder course
Shoulder level one course
Retraining optimal hip biomechanics course
BPPV training online Physio Course
Rocktape course
Pilates strength rehabilitation course
BRYCE KEFFORD

B Physiotherapy (Hons) at Monash University
Cert IV in Fitness
Bryce is a Physiotherapist whose passion lies within helping people better understand their bodies and always strives to get people moving again. Bryce prides himself on not only helping people recover from injury, but get them back to doing what they love at a high standard.
Bryce has experience with workplace based early intervention physiotherapy, where he seeks to understand the varied demands of clients occupations and reduce the likelihood of workplace injuries recurring. He loves to be proactive and help people understand aches and niggles, and strives to prevent these from becoming something serious. He feels empowered by giving patients the skills to stay one step ahead towards their health goals.
Bryce takes pride in staying healthy himself, and with his additional skills of being a fitness instructor, loves to get people of all shapes and sizes active in the gym. Whether the client is at an early stage in their rehabilitation, or moving towards sports specific skills, Bryce takes great pride in utilising our lovely big gym space to help people achieve their goals.
With his strengths being in exercise based rehab, Bryce runs over 10 sessions per week of small group classes to help people achieve their individual goals in a supportive group environment. This includes Clinical Pilates as well as Clinical Strengthening, which is a gym strength and conditioning environment.
Post grad courses:
Cert 4 in Personal Training
APA Sports Level One
APA Spinal Level One (Cervical)
iMoveU Private Practice Prepared
Rocktape skills course
Pilates Strength rehabilitation course
LIAM CROWLEY
B. Physiotherapy (hons)
Research Associate – Monash Musculoskeletal Research Unit (MMRU)
Liam's passion for physiotherapy was born through his own rehabilitation of a long list of injuries mainly sustained while playing Rugby League and Union as a junior athlete. Liam then undertook a Bachelor of Physiotherapy (Hons) at Charles Sturt University in Albury, NSW, with an honours research project focusing on Lower limb biomechanics and joint stability.
Liam continued his role in research working as a research assistant in the Monash University physiotherapy department, which has now led to him undertaking his PhD in lower limb tendon pain and the role of strength and motor control. He has presented his research internationally at the 2019 International Society of Biomechanics (ISB) conference in Canada, and has been involved in multiple publications regarding Achilles tendon pain.
Liam has a special interest in the treatment of; tendinopathy (tendinitis), running related injuries,  weightlifters/ powerlifters/ crossfitters, and rehabilitation of sports related knee injuries.
Post graduate courses:
PhD research (current)
Running retraining and rehabilitation
Dry needling – CPD health
Mastering Lower Limb Tendinopathy
Sports Medicine Australia running symposium
International Society of Biomechanics 2019 congress
Rocktape skills course
Pilates Strength rehabilitation course
ALLI JENNINGS
Dip. Remedial massage therapy
Av. dip. Myotherapy
Alli is a motivated, bubbly myotherapist whose interest in the musculoskeletal system stemmed from being involved in team sports and swimming; both competitively and as an instructor.  After retiring from swimming, Alli turned to training at the gym and due to poor instruction and lack of knowledge; injured herself. It was then that she became passionate about the importance of moving correctly as well as taking care of your body, with its benefits being both physical and mental.
Alli's favourite thing about her job is being a part of her clients health journey and seeing them succeed in their goals no matter how big or small. Alli believes that feeling strong empowers you to be a better version of yourself.
Alli enjoys treating clients who want to prevent injury, increase their range of motion, manage their pain or return back to an active lifestyle.
Alli has a special interest in lower back/hip pain.
Post graduate courses:
Adv manual therapy techniques
Joint mobilisations of cervical spine and lumbar spine
Business development
Functional release cupping
Myofascial dry needling
Kinesio-taping
Electro-stim dry needling
Rocktape skills course
Pilates Strength rehabilitation course
CATHARINE BAINBRIDGE

Dip. Remedial massage therapy
Av. dip. Myotherapy
Cat completed her myotherapy qualification in 2009 with an academic excellence award. She had completed a medical science degree but found the lack of people interaction in this career path unsuited to her personality.
Cat has always had interest in helping people with their musculoskeletal pain; and found that myotherapy was the perfect balance where she could spend quality time with her patients mapping out management plans for their pain complaints whilst addressing their soft tissue needs.
Cat has a keen interest in chronic pain, women's health issues (mum of 2 young kids), jaw & facial pain, neck pain and headaches as well as foot health. She still is very passionate about her work after over a decade of hands-on healthcare and is also involved in teaching both myotherapy and massage for tertiary level institutions for the past 5 years.
Cat was awarded a service excellence award in 2012 by the rotary club of Bundoora for outstanding customer service.
In her spare time Cat likes to do long distance running with her Vizsla, swimming, scuba diving, and messing about with her kids.
Post graduate courses:
Cervicogenic headaches
TMJ (Jaw) management
Footwear prescription
Cervical spine treatment
Pregnancy Myotherapy
Tendinopathy Workshop
Joanne Elphinton biomechanics workshops
Functional Cupping
Rocktape skills course
Pilates Strength rehabilitation course
SOPHIE WELCH

Physiotherapist and Lymphoedema Practitioner
Physio for Cancer and Lymphoedema Management
Sophie room rents through Physio and Fitness Clinic, trading as Calm Physio.
Sophie graduated from the University of Huddersfield, UK, with a BSc (Hons) Physiotherapy degree in 2010. During her Physiotherapy Career, Sophie has worked extensively within the fields of Oncology, Orthopaedics, Musculoskeletal and Cardiorespiratory Physiotherapy.
In 2018, Sophie became a Certified Lymphoedema Practitioner and provided services within Cabrini Hospital's Lymphoedema, Oncology and Palliative Care service.
Since moving to Seaford with her young family, Sophie saw a need for Accredited Lymphoedema Practitioners and trusted Cancer Rehabilitation providers closer to the Mornington Peninsula. Sophie is lucky to have found Morgan at Physio and Fitness Clinic who shares her passion for quality Physiotherapy services in a supportive and fun environment.
Sophie bases her treatment approach around the whole person, with a focus on lifestyle changes to support medically complex diagnoses. Sophie Runs Pilates based group exercise for Cancer and Lymphology patients and uses concepts of mindfulness teaching within exercise sessions.
Sophie is a Certified PINC Cancer Rehabilitation Physiotherapist and an Accredited member of the Australasian Lymphology Association. Sophie is a member of the Australian Physiotherapy Association and involved several special interest groups.
Please visit www.calm.physio for more details.
Get subscriber only insights & news delivered by Physio and Fitness Clinic