Pilates
at Physio + Fitness Clinic
We offer Clinical Pilates and Fitness Pilates at Physio + Fitness Clinic.
Clinical Pilates is run by our physiotherapists, and Fitness Pilates is run by our Pilates Instructor, Georgia.
Classes have a maximum of five participants, to ensure you get the best care.
To start Clinical Pilates at PFC you must complete a 40 minute Pilates Start Up Assessment. This is a 1:1 session with our Physiotherapists, once completed you can any Clinical or Fitness Pilates class. The Assessment is $100 and includes your first group Pilates class for FREE.
To start Fitness Pilates at PFC, call 9786 6642 or book online!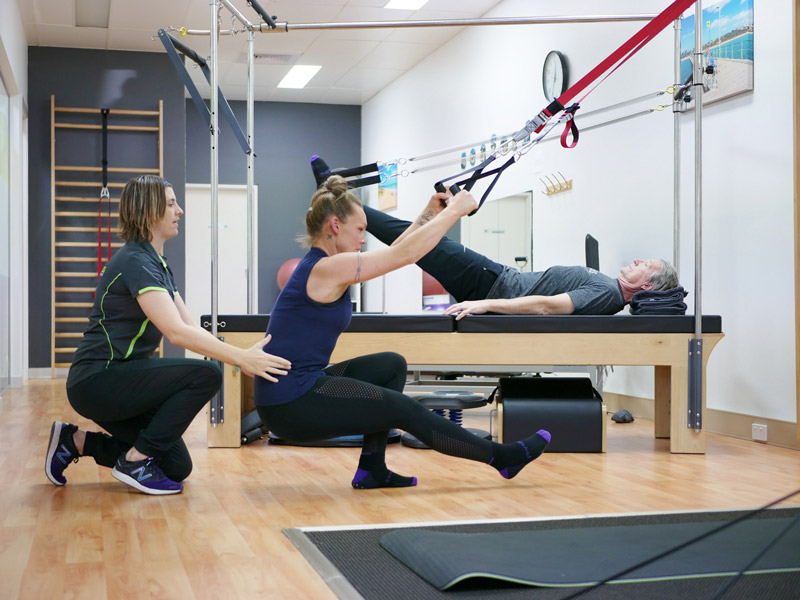 Small Group Pilates is a safe, effective and specific class ideal for strengthening and increasing flexibility and is suitable for all fitness and injury levels. At Physio + Fitness Clinic, we tailor our Pilates exercises according to your personal physical ability, bearing in mind any problematic areas you may have. With a maximum of only five participants, you can rest assured that only correct and safe techniques will be performed.
Clinical Pilates
Run by Physiotherapists
Recommended for injury rehabilitation
Claimable with Private Health Insurance
Clinical Pilates Timetable
Monday: 8.30am, 9.15am, 10.15am, 11am, 4:45pm, 5.30pm, 6.15pm, 7pm
Tuesday: 10am, 6pm
Wednesday: 10am, 5pm, 5:45pm, 6.15pm, 7pm
Thursday: 8.30am, 9.15am, 5.15pm, 6pm, 6:45pm
Friday: 8.30am, 9.15am
Saturday: 7:45am, 8.30am, 9.15am, 10am
Fitness Pilates
Run by our Pilates Instructor
Recommended for improving overall strength and flexibility
Not claimable with Private Health Insurance
Fitness Pilates Timetable
Tuesday: 5.30pm, 6.15pm, 7pm, 7.45pm
Saturday: 7.30am, 8.15am